Blogging is critical to the success of your website
Without it, your SEO will tank, you'll have nothing to promote in social media, you'll have no clout with your leads and customers, and you'll have fewer pages to put those oh-so-valuable calls-to-action that generate inbound leads. Need I say more? 
Well my friend, the time for excuses is over. Let me show you how easy blogging can be in 5 Simple Steps.
Grab your copy!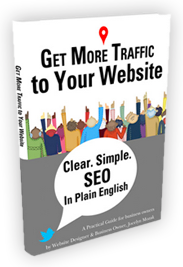 Get More Traffic to Your Website Today!
Did you know…being "found" in a Google search is the same idea as Search Engine Optimization? It is an ongoing battle between common-sense language and Google's mysterious algorithm. And it is one that can make or break your online business success.
Let me show you how basic SEO can improve your rankings, and how a WordPress website helps you build your business.
Grab your copy!
Getting Your Website OFF Your To-do List
Building or updating a website is a complicated process, but it doesn't have to take forever, cost a small fortune, or require a degree in engineering. In fact, you can learn how to use a basic WordPress website in just a few hours.
Let me show you 5 easy ways to get your website OFF your to-do list, so you can get on with building your business.
Grab your copy!
Is it time to update or redesign your site?
Let's schedule phone consultation to talk about the design process and answer any questions you might have.